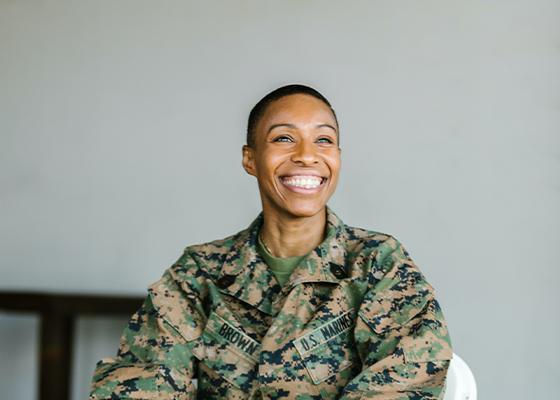 Author: Marsha Martin
Rather male or female You Are Still a Veteran
Rather combat experience or not You Are Still a Veteran
Rather retired or not You Are Still a Veteran
Rather missing limbs or not You Are Still a Veteran
Rather you lost your family or not You Are Still a Veteran
Rather you have mental issues or not You Are Still a Veteran
Rather apart of the LGBTQ community or not You Are Still a Veteran
Rather an honorable or dishonorable discharge You Are Still a Veteran
Yes, I said it – even if you have a dishonorable discharge, You Are Still a Veteran.
Now that I've gotten that out the way let's move forward…
I vividly remember my first night in the brig at Norfolk, Virginia. It was a cold and rainy night and where I slept the window was broken so it was extra cold. The only cover provided to me was a wool blanket and a set of fuzzy sheets. For those who know me, know I despise fuzz balls and wool blankets. So, I slept fully covered up with both my full PT uniform and ACU uniform on that night. I even tucked my pants into my socks so that my pants would not creep up and my legs touch the wool blanket or fuzz ball infected sheets.
The next morning, as I was performing my assigned duties, a Sailor came and got me so that I could start the process of becoming a prisoner before my departure to Miramar Brig in San Diego. After I completed everything, I was escorted back to the cell and told that I needed to relinquish my dress uniform. I asked, 'why' and was rudely told, 'you are no longer a Soldier and no longer deserving to wear the uniform'. I was then stripped of my US Army tab and US Flag from my ACU uniform. I stood there in shock. There was nothing I could do or say, so I handed over my dress uniform. In that moment I felt my life change for the worse.
I was transferred to Miramar Brig where I spent 17 months of a 34-month sentence. The days were long and the nights even longer. By the grace of God, I came home early and in one piece (I guess). The transition home after being incarcerated was plagued with fear, uncertainty, and more fear. While I was excited to be home, I feared what was in store for me. I quickly found out that America does not take kindly to the formerly incarcerated and that whole 'second chance' thing was just cute words written or spoken. I felt better prepared for war than I was for being a newly released convicted felon. I trained for war, but I never trained to be a convicted felon in America. Job interview after job interview and no doors opened, there was no second chance. Person after person telling me that I was not a Veteran and there were no benefits for me because I needed an honorable discharge.
I was so sick of the rejection that I stopped telling people that I was a Veteran. I had brought into the lie. December 2011 that changed. I received my VA disability rating and the rater determined that my service was not honorable – I had served 11 years in the US Army! I felt so defeated and wondered who was going to advocate for me. I understood what I read, but inside I was thinking, NOPE THAT IS NOT TRUE.
So, I sought the assistance of multiple Veterans' service agencies and once they saw the character of discharge on my DD-214, I got the same response – 'Ms. Martin, you are no longer a Veteran'. The last Veterans service representative told me that I was not a Veteran on March 2012. As I gathered my belongings, he went back to doing his job. So, I got his attention by hitting his desk with all the force I had in me and said, "I, Marsha Shawntauris Martin, am a Veteran! You and everyone else will respect and acknowledge that fact and I am going to get everything entitled to me. You just watch and see!" I walked out of that office and vowed that I would not stop until I found the answer. After research, I appealed the rater's decision and am now considered a service-connected disabled Veteran with a more than 30% rating.
I share my story to encourage someone else who may share a similar experience. People will say what they believe based on their limited information but with research I was able to change my story. I didn't accept failure as my final answer and through faith and determination I knew that all things are possible – even a favorable outcome in my situation. So, I proudly state, I Am Still a Veteran and if your story is similar, remember, You Are Still a Veteran, too.
---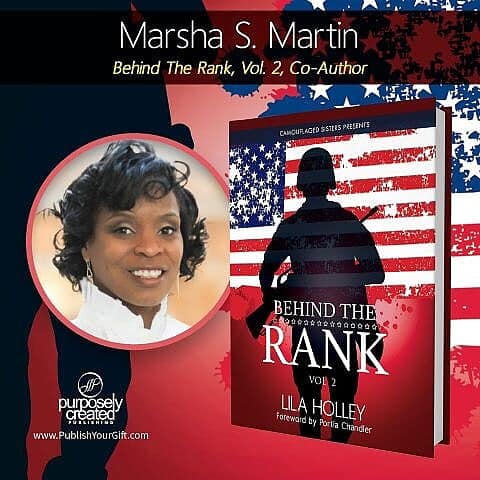 Marsha S. Martin is a US Army Veteran, and a bestselling author featured in Camouflaged Sisters Behind the Rank Vol 2. With her business, The Game Changer, Marsha provides lifestyle strategies for people transitioning out of the corrections system. Her You Are Still a Veteran service company helps Veterans file claims to obtain benefits and services from the VA.
Topic: Transition